21st century jazz vocalist | educator | activist
LATEST ALBUM: A Love Letter to Lena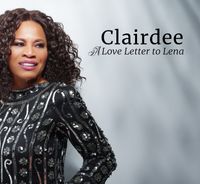 Jazz songstress Clairdee sings the music of Lena Horne in a love letter to jazz, activism and family. A Love Letter to Lena is a deeply personal celebration of the iconic barrier-shattering African-American movie star, singer, and civil rights activist. In this thought-provoking, timely, and inspiring homage, Clairdee  integrates inventive arrangements of songs by Billy Strayhorn and contemporary composers with compelling spoken word.
- - - - - - - - - - - -
"Each time I listen to Clairdee's new album, I have a new favorite. But her performance on 'Sometimes I Feel Like a Motherless Child' gets me every time." 
—Regina Carter, violinist, NEA Jazz Master, MacArthur "Genius"  
"'A Love Letter to Lena' is a remarkable document. It is more than a recording, it is a testament!" 
 —Dick Hyman, pianist, composer, NEA Jazz Master  
"I love Clairdee's recording. Lena would love it, too."
 —Rodney Jones, musical director/producer for Lena Horne  
"Over a century after the birth of Lena Horne, how gratifying to see her legacy perpetuated with as much musicality, originality, heart, and fighting spirit as Clairdee shows on this album." 
 —James Gavin, author, Stormy Weather: The Life of Lena Horne 
"Clairdee paints a loving, and at times fierce, biographical portrait of one of the most beloved artists of the 20th century. Seldom considered in the pantheon of jazz singers, nonetheless Lena Horne certainly earned her stripes in that arena. Tribute projects like this one are rare."  
—Willard Jenkins, writer, producer, broadcaster 
"Clairdee is a warm, soulful singer who makes every song she sings her own. I love her new tribute album to Lena Horne."
—Marc Myers, JazzWax.com